La asociación de la prensa extranjera ha cumplido con las expectativas: La la land lidera la lista con 7 nominaciones. The people VS O.J. Simpson: American crime story lidera las de televisión con 5.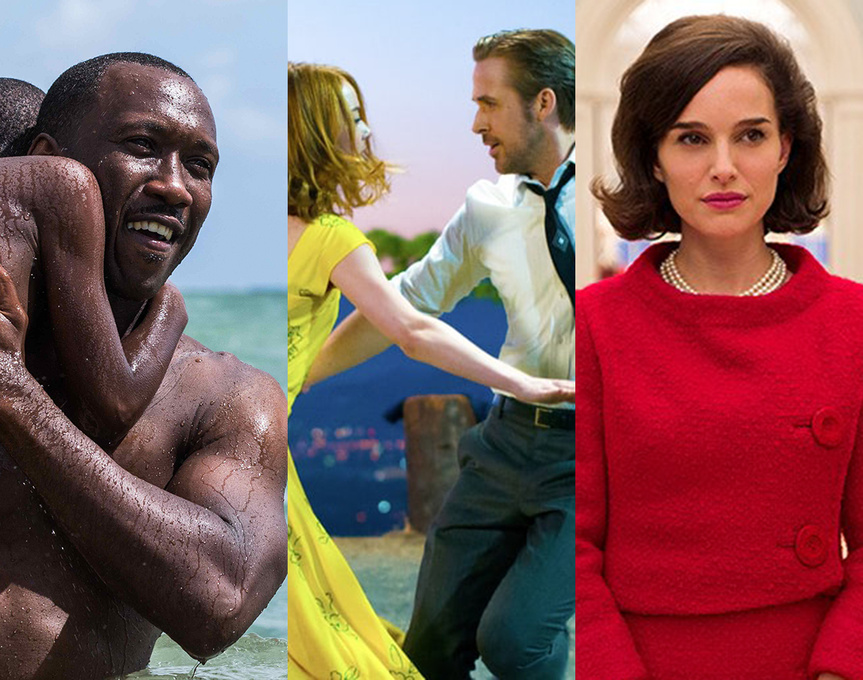 MEJOR DRAMA
Manchester by the SeaFencesMoonlightHacksaw ridgeHell or high water
MEJOR COMEDIA/MUSICAL
La La Land20th Century WomenDeadpoolFlorence Foster JenkinsSing Street
MEJOR PELÍCULA DE ANIMACIÓN
Kubo y las dos cuerdas mágicasZootopiaVaianaMa vie de couragette¡Canta!
MEJOR DIRECTOR
Damien Chazelle, La La LandBarry Jenkins, MoonlightKenneth Lonergan, Manchester by the SeaTom Ford, Nocturnal animalsMel Gibson, Hacksaw Ridge
MEJOR ACTOR DRAMA
Casey Affleck, Manchester by the SeaDenzel Washington, FencesAndrew Garfield, Hacksaw RidgeJoel Edgerton, LovingViggo Mortensen, Captain fantastic
MEJOR ACTRIZ DRAMA
Amy Adams, ArrivalIsabelle Huppert, ElleRuth Negga, LovingNatalie Portman, JackieJessica Chastain, Miss Sloane
MEJOR ACTOR COMEDIA
Ryan Gosling, La La LandHugh Grant, Florence Foster JenkinsColin Farrell, The LobsterJonah Hill, War dogsRyan Reynolds, Deadpool
MEJOR ACTRIZ COMEDIA
Annette Bening, 20th Century womenLily Collins, Rules don't applyEmma Stone, La la landMeryl Streep, Florence Foster JenkinsHailee Steinfeld, The age of seventeen
MEJOR ACTOR DE REPARTO
Mahershala Ali, MoonlightJeff Bridges, Hell or high waterAaron Taylor Johnson, Nocturnal animalsDave Patel, LionSimon Helberg, Florence Foster Jenkins
MEJOR ACTRIZ DE REPARTO
Viola Davis, FencesNaomie Harris, MoonlightNicole Kidman, LionMichelle Williams, Manchester by the SeaOctavia Spender, Hidden Figgures
MEJOR PELÍCULA EXTRANJERA
DivinesElleNerudaThe SalesmanToni Erdmann
MEJOR GUION
Manchester by the seaMoonlightHell or high waterLa la landNocturnal animals
MEJOR BANDA SONORA
La la landArrivalLionMoonlightHidden figures
NOMINACIONES TELEVISIÓN
MEJOR SERIE DRAMA
Game of ThronesThe CrownWestworldStranger ThingsThis Is Us
MEJOR SERIE COMEDIA
AtlantaBlackishMozart in the jungleTransparentVeep
MEJOR MINISERIE
The People v. O.J. Simpson: American Crime StoryThe Night ManagerThe DresserThe Night OfAmerican Crime
MEJOR ACTOR DRAMA
Rami Malek, Mr. RobotMatthew Rhys, The AmericansBob Odenkirk, Better call SaulLiev Schreiber, Ray DonovanBilly Bob Thornton, Goliath
MEJOR ACTRIZ DRAMA
Claire Foy, The CrownWinona Ryder, Stranger ThingsEvan Rachel Wood, WestworldCaitriona Balfe, OutlanderKeri Russel, The americans
MEJOR ACTOR COMEDIA
Gael García Bernal, Mozart in the JungleDonald Glover, AtlantaNick Nolte, GravesJeffrey Tambor, TransparentAnthony Anderson, Blackish
MEJOR ACTRIZ COMEDIA
Rachel Bloom, Crazy ex girlfriendSarah Jessica Parker, DivorceJulia Louis-Dreyfus, VeepIssa Rae, InsecureGina Rodriguez, Jane the virginTracee Ellis Ross, Blackish
MEJOR ACTOR DE MINISERIE
Courtney B. Vance, The People v. O.J. Simpson: American crime storyTom Hiddleston, The night managerBryan Cranston, All the wayRiz Ahmed, The night ofJonh Turturrro THe night of
MEJOR ACTRIZ DE MINISERIE
Sarah Paulson, The People v. O.J. Simpson: American crime storyFelicity Huffman, American crimeKerry Washington, ConfirmationCharlotte Rampling, London spyRiley Keough, The girlfriend experience
MEJOR ACTOR DE REPARTO
Sterling K. Brown, The People v. O.J. Simpson: American crime storyHugh Laurie, The night managerJohn Lithgow, The crownJohn Travolta, The People v. O.J. Simpson: American crime StoryChristian Slater, Mr Robot
MEJOR ACTRIZ DE REPARTO
Olivia Colman, The night managerLena Headey, Game of thronesThandie Newton, WestworldChrissy Metz, This is usMandy Moore, This is usFuente: revistavanityfair.es